The 33 Best BBQ Joints in America
Barbecue is political. It reeks with lots of choices and never-ending debates. Is the housemade sausage spicy enough? Does the meat need a mop splattering of mustard liquid? Poking through oil-stained butcher paper and aluminum foils creases is the cuisine that indigenous people of the Americas and enslaved Africans single-handedly invented — full stop.
From Houston to Portland, our 33 joints include smoke meat crusts and crispy ends curated outside of a vacuum. We went back and forth with folks like Beard award-winning writer Adrian Miller, pitmaster Howard Conyers, southern-based food writer Keia Mastrianni, editor-in-chief of Kansas City's 435 Magazine Martin Cizmar, and Virginian-Pilot food writer Matthew Korfhage. Plus, we dug into past barbecue coverage and found our most exciting contributors.
The list has places with fatty beef brisket mostly associated with Texas-style 'cue, and the whole hog smoked and dressed in the way of both Carolinas. We included BBQ joints with global takes on chicken wings, and dessert offerings of cream pies bursting with peanut butter and shaved chocolate. We do solemnly swear your chews won't raise taxes, but the arguments about your favorites might increase your blood pressure. — Nicole A Taylor
17th Street Barbecue
Murphysboro, Illinois
Few figures in barbecue are as revered as Mike Mills and as respected as his daughter Amy, the driving forces behind 17th Street BBQ. Since the early '90s, Mike's cherry and applewood-smoked, magic-dusted baby back ribs have been winning world championships accolades and breaking competition circuit records. People travel from across the country to the small town of Murphysboro to devour them, and budding pitmasters can leave with more than just leftovers thanks to a series of cooking workshops from Mike and business classes from his daughter, who also recently penned a tell-all book. And for those who can't make the journey, they even ship their meat overnight. — Dan Gentile
Arrogant Swine
Brooklyn, New York
North Carolina-style BBQ and the word Williamsburg in the same sentence — seems odd. How did deep-hued pork shoulders and vinegar-drenched pork parts end up in the big city? Alongside artisanal condiments and hairy men, Native New Yorker Tyson Ho is to blame. He geeked out over every element of preparing whole-hog 'cue and brought the regional specialty to Brooklyn. From cracklings to pepper sauce and slaws, this place is legit. Order the outside brown shoulder cuts dipped in tangy sauce over everything else because it's hard to find above the Mason Dixon line. Be sure to order the sweet potato waffle: The sweetness is a nice break between fatty bites. — Nicole A. Taylor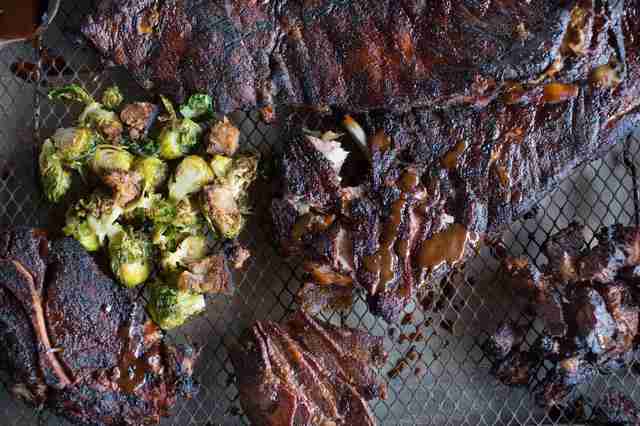 Beast Craft Barbecue
Belleville, Illinois
There are many paths to achieve the title of pitmaster. These days barbecue is embraced by not just local boys following in family traditions, but fine dining chefs seduced by fire, smoke, and an escape from the pretension of upscale kitchen culture. Beast's David Sandusky followed that path, bringing chefy meticulousness and a reverence for ingredients to St. Louis's barbecue scene. Along the way he's racked up a kitchen counter worth of local and national awards, as well as a radio co-hosting gig on The Budweiser Big BBQ Show. At Beast, Old Hickory pits smoke only the finest proteins, from Duroc pork to Wagyu brisket. Although of course they offer the traditional combo plate fair, the most popular orders are rarer finds: a reverse seared pork steak and Brussels sprouts. And like most of the other joints on this list, early arrival is recommended, because you best believe they're selling out. — DG
Big Bob Gibson Bar-B-Que
Decatur, Alabama
On the one hand, the BBQ boom has fueled enough interest in regional variations that it's not remotely uncommon anymore to enter a recently opened BBQ establishment anywhere in the country and encounter the distinctive vinegary, mayo-based sauce that Bob Gibson first created generations ago. On the other hand, you haven't REALLY experienced it until you've made the pilgrimage to Decatur, eaten your weight in hickory-smoked chicken, and experienced that bright, peppery tang right there at the source. — Matt Lynch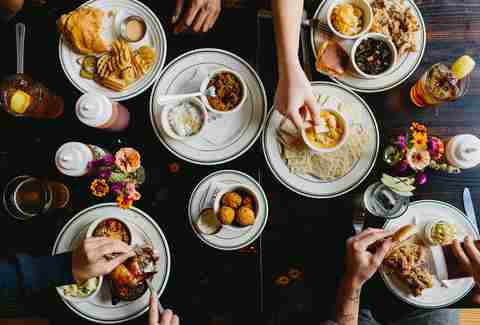 Buxton Hall Barbecue
Asheville, North Carolina
Stepping into Buxton Hall Barbecue is like stepping into the technicolor mind of barbecue cook Elliott Moss, the Florence, South Carolina, native who has infused his entire being into the craft of whole-hog barbecue. The old skating rink-turned-barbecue restaurant, open since August 2015, features brick bones, wood floors, and vintage hand-painted murals — the perfect backdrop for Moss's whimsical talents. Son of a welder and South Carolina barbecue traditions, Moss incorporates regional delights into the Buxton repertoire including hog's head hash and chicken bog in addition to his Eastern North Carolina style whole hog barbecue with its vinegary red-pepper flecked mop, while his seasonal sides utilize the properties of wood smoke, fire, and hog fat as law. Pair that with a killer cocktail menu and the genius pies of Ashley Capps, Buxton's James Beard-nominated pastry chef, and you've got a barbecue destination of the nth degree. — Keia Mastrianni
Cattleack BBQ
Dallas, Texas
There's a certain charm to barbecue shacks located in the middle of nowhere, but Cattleack proves that operating out of a crumbling bungalow isn't a requisite for great meat, any old strip mall will do for the right pitmaster. Cattleack is just one of several places raising Dallas's barbecue profile to full on destination……..Read More>>
Source:- thrillist
Share: