14 of the worst White House moments of 2018
With 2018 winding down, it's safe to say that this year was just as chaotic at the White House as 2017, if not more so. From absurd behavior to jail time for former staff members to the battle with the press, it's been a year that's left us trying to catch our breath.
So much of what's happened in 2018 has been centered around the White House, be it staff turnover or events that actually took place there. So instead of trying to take on the worldwide whirlwind that is Trump himself, we've limited our scope to some of the worst White House-oriented events of the year.
Even then it's pretty hard to capture everything that happened. But here are our picks for the 14 worst White House moments of 2018.
1. Trump's Jailhouse Rock
For all of Trump's belly-aching about the Mueller investigation being a "witch hunt," an awful lot of people from the president's orbit are going to jail over it. The biggest Trump figure to fall is his former personal attorney Michael Cohen, who was sentenced to three years in prison for a variety of crimes, including violation of campaign finance laws — which Trump is also implicated in — due to making hush payments to two women with whom Trump allegedly had affairs.
Other figures awaiting jail time include Trump's former national security advisor Michael Flynnand his former campaign chair Paul Manafort. And the Mueller investigation still isn't even over. The cases are piling up so quick, it's starting to look like the participants already found guilty will total more days in jail than days in Trump's first (and possibly only) presidential term.
2. Chuck & Nancy & Chaos
Talk about going out with a bang. Even with a few days left in the year, it'll be hard to top what happened on Tuesday, December 11, in front of a gaggle of press in the Oval Office. Incoming House Leader Nancy Pelosi and Senate Minority Leader Chuck Schumer, the leading Democrats in Congress, were sitting with Trump and VP Mike Pence for what Trump clearly hoped was a nice, bipartisan photo op.
 What unfolded, though, was a spectacular partisan verbal brawl. Pelosi and Schumer needled Trump over immigration and government funding, resulting in Trump saying he'd take full responsibility for any government shutdown.
It was an astounding meltdown from a president who's made us almost numb to tantrums. It also sets the stage for an explosive 2019, as Democrats take back control of the House while the 2020 presidential campaign revs up and the Mueller investigation rolls on.
3. Acosta-gate
Trump's battle with the media came to a head in the final quarter of 2018. CNN's Jim Acosta has raised the ire of multiple White House officials, including Trump, throughout the current administration's tenure. The feud exploded in early November when a heated exchangebetween Acosta and Trump eventually led to the White House revoking Acosta's press pass.
While it was the clearest punch thrown by the administration in their ongoing fight against the press, things got even weirder when White House Press Secretary Sarah Huckabee Sanders shared a doctored video of the incident sourced to an Info Wars editor to defend the revoked pass, claiming Acosta physically attacked the young White House intern trying to take a microphone from Acosta. Kellyanne Conway made it even weirder with an alternative facts defense.
In the end, the White House backtracked from the physical nature of their original claim (the video was doctored, after all) and said it was because, basically, they thought Acosta was rude. Eventually, Acosta got his pass back, the White House made up (bad) new rules for journalists, and the battle between the free press and the president continues on.
4. A horrifying holiday
In 2018, just as it happened in 2017, First Lady Melania Trump's Christmas decorations in the White House were met with ridicule. In particular, the giant blood-red Christmas trees that haunted the hallways of the White House were target of jokes and memes this time around.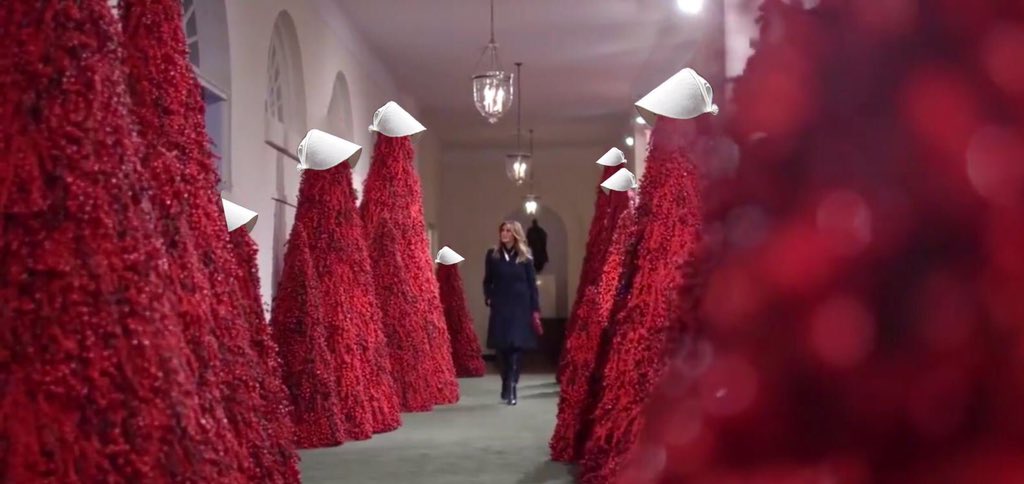 Maybe next year, she'll stick with some garland and an inflatable Santa on the lawn.
5. That painful Game of Thrones tweet
We can't pinpoint any single tweet Trump sends, because really, he sends so many bad ones that we'd never keep up. But this one in particular, this really bad attempt to cash in on the popularity of Game of Thrones, gets its due because it's very clear someone's nephew or some lowly underpaid intern stayed up way too late in the White House basement to come up with this bad art.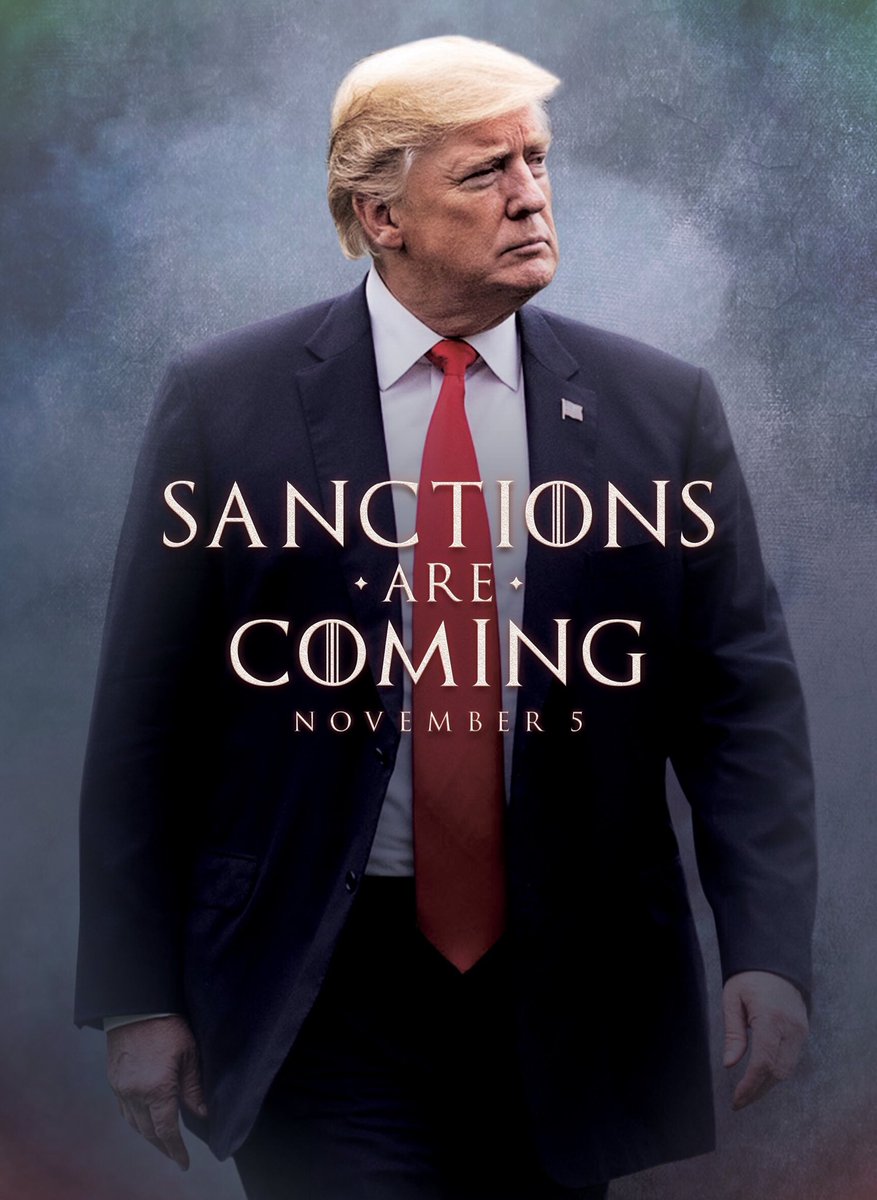 It's a perfect example of an inept, out-of-touch administration bringing the thirst. It went viral, alright, but for all the wrong reasons. To mash together two HBO references, if you come at the Night King, you best not miss.
6. The corniest White House painting
Trump has famously tried to spruce up a White House that he isn't exactly thrilled to live in by hanging things like his victorious electoral map. In 2018, we learned he'd gone one step further by hanging a terrible fan art painting portraying him sharing some drinks and laughs alongside other Republican presidents.
While Trump may have gotten along swimmingly with Nixon, it's hard to envision either Abe Lincoln or Teddy Roosevelt having too many chuckles hanging out with the president.
7. The child separation policy
Perhaps the biggest black eye the Trump administration took in 2018 was over separating migrant children from their families at the border. The administration insisted, despite evidence uncovered by journalists, that this was not their policy, inciting a wave of backlash(and a debate over First Lady Melania Trump's controversial jacket choice).
The administration said they put a stop to the unconscionable practice after much protest, but trouble lingered as hundreds of children remained separated from their parents into the fall, just as Trump began revving up his midterm election racist rhetoric over a caravan of migrantsstreaming through Mexico.
8. Donald and Kanye hold court
Trump relishes a spectacle, but this was something else altogether, a meeting of minds that went supernova in seconds. It was such an incredible display of jaw-dropping absurdity, we almost missed the fact Kanye that shared his iPhone passcode with the world.
9. An awkward phone call
Trump's presidency has, thus far, been a long, strange fever dream, a feeling punctuated by the ridiculously awkward August phone call he had with Mexico president Enrique Peña Nieto. As his speakerphone continued to malfunction, what should have been a dry, pointless diplomatic photo op turned into a comedy of errors. When it got the VEEP treatment, it only served to remind us all that distinction between the HBO satire and the real world was getting blurrier every day.
Share: